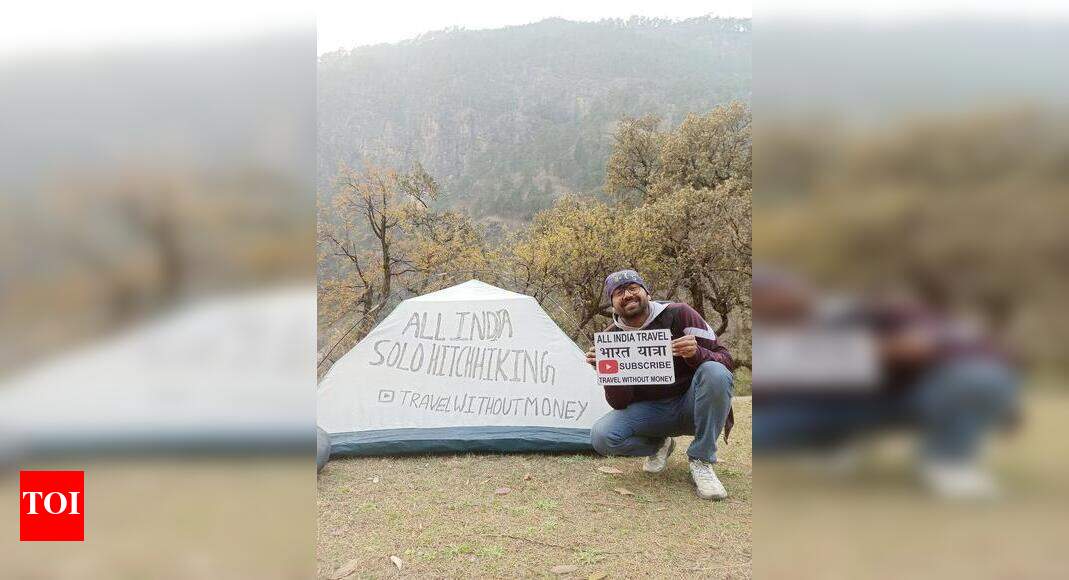 Uttarkashi: Afsaar Malik, 28, who worked as an accountant in a private company in Delhi, left his job at the start of Covid in 2020 to travel full time. However, he does not spend money on travel, accommodation, or food. His only source of income is a travel blog on YouTube. So far he has hitchhiked to Himachal Pradesh, Goa, Tamil Nadu, West Bengal, Jharkhand, Ladakh, Uttar Pradesh and even Nepal, staying and eating among the inhabitants.
Sharing his travel experience, Malik said: "People thought it was crazy, if not impossible, to travel by hitchhiking. But everywhere people are surprisingly generous, I never had to spend money on transport, accommodation and food.
"Hitchhiking is primarily about traveling by getting free rides from passing vehicles. I took a step forward by deciding not to spend money on the three basic requirements of any trip – transportation, accommodation and food," said Malik, whose next mission is to reach Gangotri.
After completing his studies, he joined a private company as an
accountant
. Then one fine day in 2014, after all these years of a hectic life in Delhi, he decides to travel, which begins by affecting him financially.
He said: "Finally in May 2020 during Covid Pandemic I quit my full time job and decided to travel across India with no money. In September 2020 my first trip of this guy was in neighboring Rajasthan. After learning the ropes, I went to a few other places which gave me a lot of confidence."
On his travels, Malik typically carries a backpack, camping tent, sleeping bag, camera, smartphone, and notice board, with messages like "elevator please" and " travel without money". He also documents his trip and has created a travel blog on Youtube, where he has over 18,000 subscribers.
Talking about his upcoming trip, Malik said, "I travel to Gangotri via Dehradun, Mussoorie, Uttarkashi and Harsil. Here I saw Ganga in her purest form, met very friendly people and witnessed interesting activities like 'Rhododendron' juice – For me, experiences like this help transform me and I'm always happy to learn the unknown."