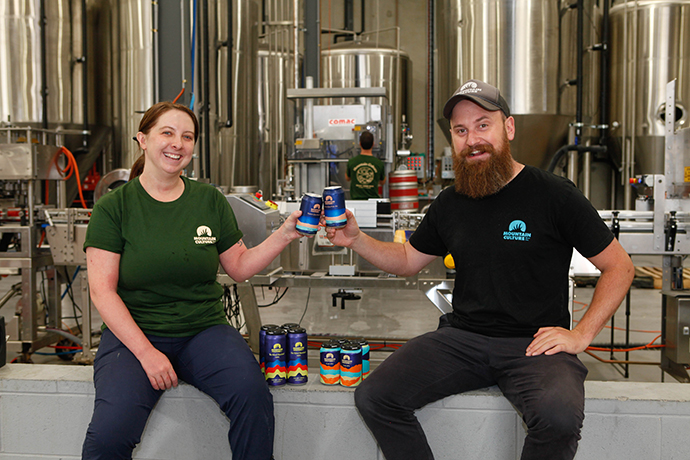 Cheers are in order for residents of Emu Plains who will soon be able to enjoy a range of craft beers at a new tap room opening in early May.
Mountain Culture Beer Co has had its Development Application (DA) approved by Penrith Council to have on-site consumption from its brewing facility at 35 David Road, Emu Plains.
Mountain Culture Beer Co co-founder DJ McCready, who operates a popular brewery in Katoomba, told The Weekender the expansion plan was a result of the pandemic.
"I've been a professional brewer for 14 years, started in the US for bigger craft brews, then my wife and business partner, Harriet, and decided to open a little brew bar where people can come in," he said.
"Our business plan was upended by the bushfires and then by COVID, but luckily we had been canning beers since day one so we created a website and switched to packaged beer you can enjoy from your living room."
With the business rapidly gaining interest both at home and abroad, Mr McCready said it had grown from producing 60,000 liters of beer a year to half a million litres. The business needed to expand and took over the Emu Plains site last year, which provided opportunities for growth.
"We had only been in business for a year and needed to expand but wanted a good area so settled on Emu Plains as it is still linked to the mountains but has the same ease of accessibility as Penrith "said Mr. McCready.
"It has around 2,000 square meters of factory space, so we can produce up to eight million liters of beer, but it also allows us to bring people in as we originally wanted with our facility. ."
Currently the number one brewery in Australia, Mr McCready said the proposed bar at the facility will provide education about brewing and recreation.
"We take our products very seriously, but we're not snobbish, so we just want to create a cool place where people can come in and try beers with their friends while seeing them being made," he said. he explains.
"There will be an industrial vibe to go with the location and we have been approved for 120 clients.
"It will give people the opportunity to learn more about craft beer, but we will also have other food and drink offerings."
A graduate of Western Sydney University, Emily covers local, state and federal politics for The Weekender, as well as crime and general news.