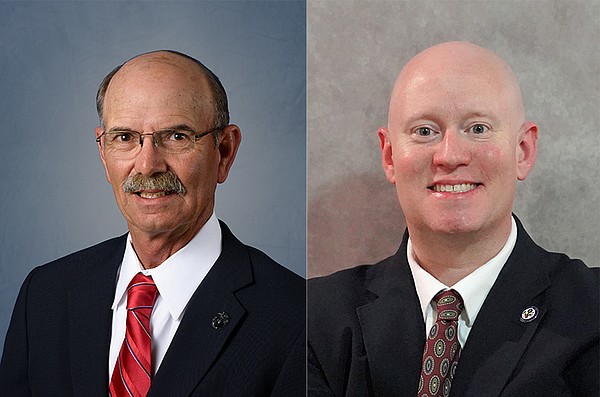 Editor's Note: The following are unedited responses from Justice of the Peace for Miller County, District 7, Candidates Roy Pitt and James Syler. Each candidate was entitled to a total of 500 words to be distributed as he saw fit among his answers to the same five questions. The primary election is May 24.
What makes you a good candidate for Miller County District 7 JP?
Roy Pitt: Texar-kana resident and taxpayer since 1979 and District 7 resident since 2004. Retired master electrician, electrical supervisor for Electrique Corp. 35, United States Marine '67 – '73, and Trap Team Coach for Texarkana School District/AYSSP since '13.
——
James Syler: My experience, education, and community service combine to show that I am best qualified to represent the residents of District 7. I hold a BA in Public Administration from Henderson State University and a Ph.D. in law from the University of Arkansas. Law School. For the past 19 years, I have advocated for the citizens of the State of Arkansas as a specialty attorney with the Office of Child Support Enforcement. I made public service the center of my career, not money. I hold a license to practice law in both state and federal court in Arkansas. As I believe that community service is essential to leadership, I am the new president of the Kiwanis Club of Texarkana, member of the board of directors of HandsOn Texarkana and treasurer of the board of directors of Texarkana Resources for the Disabled.
What are your top priorities if elected?
Pitt: To represent all residents/taxpayers of District 7 equally, regardless of party affiliation.
——
Syler: If elected, my first priority will be the safety and security of the citizens of Miller County, because everyone has the right to feel safe in their own home and community. My second priority is to protect the hard-earned taxpayer dollars that flow into the county. I have to respect my budget, the county too. And my third priority is to focus on economic development. The only way to increase our tax base is to bring new jobs and new industries to our region.
How do you plan to connect with the District 7 community?
Pitt: I intend to challenge the residents of District 7 on any matters that may come before the Court of Quorum. Their opinion is worth as much as mine.
——
Syler: I want to be available to the citizens of my neighborhood. The concept of transparency in government is something that should be more than words. My plan includes posting meeting information and proposals on Facebook, which will keep citizens informed. Citizens deserve the ability to easily see what the county is doing. Also, my email will be available for anyone to contact me at any time.
What Quorum Court committees do you hope to serve on?
Pitt: Departmental infrastructure and maintenance of existing buildings.
——
Syler: Given my background and education, I believe I could better serve the citizens of my district on the Budget and Finance Committee, the Ordinances and Grants Review Committee, the Personnel Committee, or of the Corrections Committee.
How do you hope to improve District 7 during your two-year term if elected?
Pitt: Dist. 7 is 80% farm and ranch. I hope to help these activities where possible. Our owners and residents also have needs, I plan to represent those needs when asked to do so.
——
Syler: If elected, my primary goal for my district is to improve the safety and security of our region. Unfortunately, the increase in drug abuse in our area has also led to an increase in crime. I would also like to focus on bringing new jobs and industry to our region. We are unique in having easy access to both Interstate 30 and Interstate 49, it's time to put that advantage to good use.