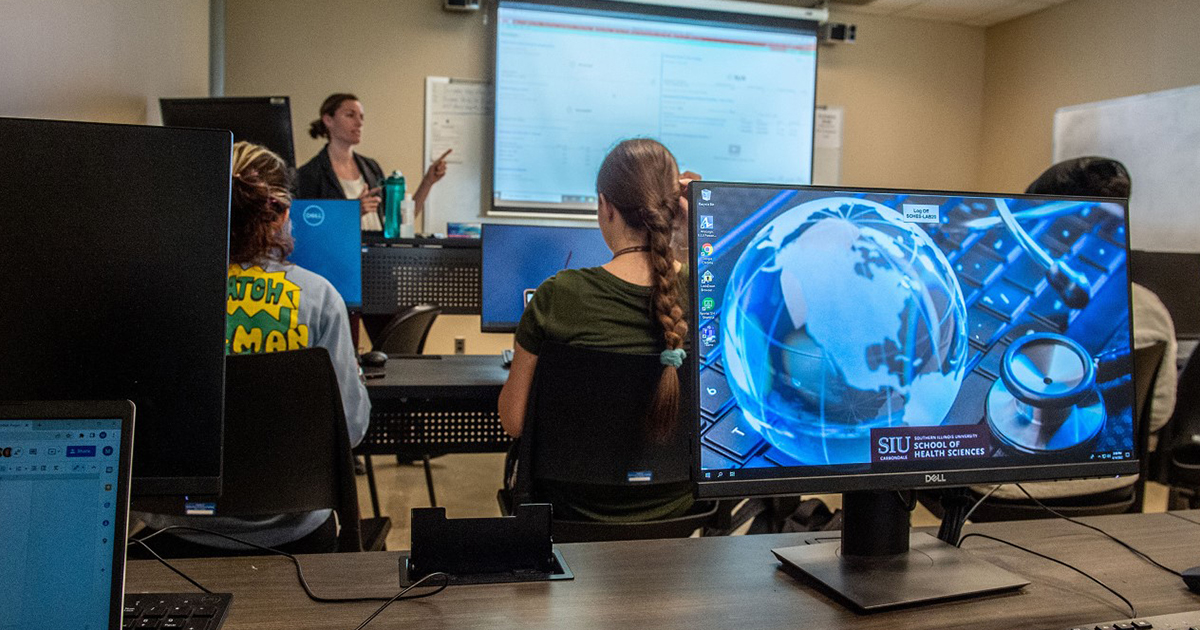 Jessica Cataldo, Assistant Professor of Healthcare Management, teaches students in the state-of-the-art Experiential Learning Lab for Computer Science Education (ELLIE), where they receive hands-on training with specialized software to improve their technical skills and prepare them for internships and jobs. (Photo by Russell Bailey)
May 10, 2022
SIU's state-of-the-art lab helps healthcare management students kick-start their careers
CARBONDALE, Ill. — Thanks to a specialized lab and training offered at Southern Illinois University Carbondale, healthcare management graduates have an edge over many of their peers when entering the workforce, officials say. and graduates. The system allows students to review patient medical records, analyze charts and risk factors for better patient outcomes, process billing data to facilitate revenue cycle improvements, review insurance claims data to verify accuracy and integrity, create disease outbreak models and more.
"The Experiential Learning Lab for Computer Science Education, called ELLIE, is a dynamic, state-of-the-art computer lab environment for training healthcare personnel, both clinical and managerial," said Jessica Cataldo, assistant professor of health care management.
The state-of-the-art lab, located in Room 60 of the ASA Building, west of the Banterra Center, includes 40 computers with specialized software to improve students' technical skills in healthcare management.
"Given the need for workforce preparation in healthcare analytics and informatics, making these learning opportunities possible for our students gives them a distinct advantage," Cataldo said. "This training really improves the job readiness of our students. Employers tell us they need less training than other interns and new hires. And the training they received at SIU also translates into the ability to use other healthcare management and informatics programs.
The training prepares students well for a growing field. The US Bureau of Labor Statistics predicts a 32% job growth rate for healthcare management in the decade ending in 2030.
Well equipped and scalable
Through ELLIE, students in the SIU healthcare program have access to some of the most advanced technologies in the country, including EPIC, one of the leading electronic healthcare platforms, according to Cataldo and instructor Kyle Triplett. healthcare management clinic. Triplett said it's very rare for a university to be able to offer in-house training with an electronic health records (EHR) program such as EPIC.
The program allows students to conduct a thorough review of fees and codes to ensure everything is correct so healthcare facilities can be properly paid. The process involves encrypted emails, many hours of training and more, starting with a set benchmark.
Students use the software to review patient records, study risk factors, outcomes, and other facets to ensure the most favorable outcomes for treatment. Additionally, they learn how to navigate electronic health records, which Cataldo says can be tricky because sometimes providers enter notes in a structured and sometimes haphazard manner.
Students are also using the high-tech programs to create outbreak models, which have become even more relevant with the COVID-19 pandemic, according to Cataldo. They typically use simulation software to examine an influenza outbreak, track the number and location of cases, vaccinations, interactions, and more. Cataldo said that over the past two years, those lessons have really come alive for students as they have seen the dramatic effects a disease or pandemic can have.
Despite the necessary adjustments over the past two years due to the pandemic, the scope of the ELLIE Lab has already expanded and proven instrumental in student success, officials said.
"There's so much potential here," Cataldo said.
The lab was remodeled and updated with the latest technology shortly before the onset of the COVID-19 pandemic, with Southern Illinois Healthcare providing invaluable assistance to the initiative by sharing time, training space and Staff. SIH provides training opportunities to enable SIU healthcare management faculty and students to also access its EPIC training modules and experts.
Many healthcare management courses are meeting in the same classroom, and faculty are gradually introducing the use of ELLIE technology, a process the pandemic has slowed somewhat. Triplett incorporated it into his healthcare finance course, and last semester Cataldo incorporated it into his epidemiology/record review course.
Prepared for internships and careers
The training that healthcare management students receive in the ELLIE lab helps prepare them for the required 150-hour internships and their careers.
"It gives students valuable, critical experience with important programs and skills that they can put on their resume," Cataldo said.
Triplett said he's heard several stories about how well the Salukis are doing.
"The preceptors who supervise our interns tell us that our students have much shorter learning curves and a broader scope of understanding when it comes to healthcare management technology in general," Kyle said. "That's a big advantage because it translates directly into their ability to use skills that are used daily in the field of healthcare management. It's the hands-on learning that counts.
Ricky Waldron, a senior healthcare management executive from Herrin, Ill., trained at ELLIE during her Health Information Management course and said, "Gaining experience with electronic health records is essential in today's healthcare world. Learning about workflows in non-clinical areas, such as billing or running quality reports, can also help you prepare for your internship. »
He said working with the state-of-the-art system allowed him to apply classroom instruction to real-life situations.
"ELLIE does a great job of helping students gain an excellent basic knowledge of how the health care system works and how to use the workflow skills you'll need for a career in health information. or computing," Waldron said.
He is putting his training to good use this spring by doing an internship in the clinical informatics department of the SIH. Additionally, well before graduating next month, he had already accepted a position as an IT specialist with a company that operates several health care clinics of various types in the Charlotte, North Carolina, metropolitan area. Waldron said it was definitely beneficial during his interview to be able to share details about his classroom experience and hands-on learning and how he was able to use that knowledge on various projects during his internship.
creative learning
The Faculty of Healthcare Management at SIU also uses other creative teaching techniques. On a recent spring day, the classroom moved outside and the students divided into groups for a learning exercise.
The objective was to simulate a process improvement project. Each group of students had to pass a bullet back and forth as quickly as possible but in the same order, much like they would process a task when working in the field of healthcare management. Sometimes they were lined up in a circle, sometimes in lines, but always they had to maintain the same order regardless of position and complete the task without dropping the ball. Students had to talk, strategize and plan as they would if they were dealing with a patient care file.
The groups competed to see which could come up with a strategy faster to complete the task in the easiest, fastest and most efficient way – just as they would manage a healthcare situation for the good of the patient and the patient. establishment, Cataldo said.