---
Despite his unique setbacks, 7-year-old Roger Severs is fascinated by heavy vehicles and knows the name of every truck model on the road. A career as a truck driver awaits you?
Young Roger Severs wears an oversized fluoro jacket as he approaches an Allied Express Kenworth. Photo provided
As the editor of Australia's leading truck publication, there is nothing more encouraging than catching up with young truck enthusiasts. So it was with some enthusiasm that I had the opportunity to meet Roger Severs, 7, his twin brother Arthur, his sister Jenny and his mother Rachael Hutchison at a cafe in South Brisbane shortly after school hours. .
As Rachael advised me earlier, Roger has special needs and has already had speech therapy to help him with his general communication. However, aside from an initial shyness when we first met, Roger quickly emerged as an ordinary truck-loving kid.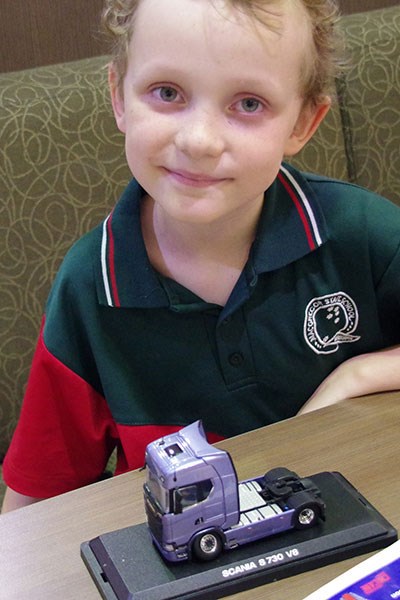 Roger marks a new model of truck – a Scania S730. Photo by Greg Bush
"He's always been able to say the names of trucks," says Rachael. "He might have struggled with 'one two three', but he didn't wrestle with 'Kenworth'."
Once the ice was broken, in part because of the postponement of a few months of Owner Pilot magazines, Roger was outspoken when asked about his favorite truck. "Peterbilt," he instantly reacted.
Rachael points out that Roger pinned Owner PilotThe truck of the month's posters all over the wall of his room and spends a lot of time counting the wheels on each platform.
It's easy to think that Roger's taste for trucks came from his father, Darrin, who started out as a mechanic before moving on to truck driving.
Darrin is currently seated behind the wheel of an Argosy Freightliner, doing local work. But, according to Rachael, she first became aware of Roger's fascination with trucks at a very young age.
"When he was a baby, we lived in a house across the street where they started cutting down the forest to build a big school, and a lot of trucks were coming in and out of the area. So I noticed that at the at the age of two, he was starting to look out the window, "she said.
"There were eight hour shifts at the window."
Later, Roger became particularly interested in the red and white colors of Allied Express vehicles, especially large platforms. Rachael phoned Allied to see if the express freight company had any goods to sell. After explaining his young son's fascination with the Allied brand, an invitation came to visit the company's Rocklea site.
Roger Severs received this double B after visiting the Rocklea premises of Allied Express. Photo provided
Roger was gifted with goods, including an ally hat, but the best was yet to come. Rachael quickly got a call from Allied: "I would really like you to come back with the whole family this time.
"So Arthur got a big gym bag and Roger got a B-double model," says Rachael.
Roger's interest in trucks also extends to the American TV series Ice road truckers. "He has all the DVDs," Rachael remarks.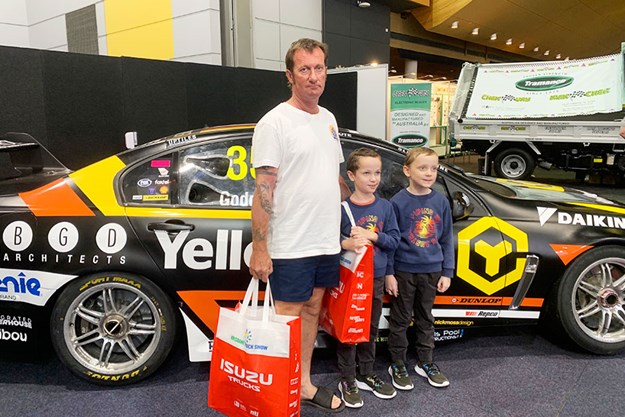 Truckin 'daddy Darrin Severs and sons Arthur and Roger at this year's Brisbane Truck Show. Photo provided
More recently he discovered Outback Truckers, his favorite character being Paul 'Sludge' Andrews and his big purple Peterbilt.
Roger's highlight in 2021 was undoubtedly the Brisbane Truck Show, and while Sludge didn't make an appearance, he was over the moon after he and Arthur met Glenn 'Yogi' Kendall.
Rachael says the family stood in line for around 40 minutes to meet Yogi, and although she admits that Roger is generally uncomfortable waiting for this period, he kept his cool and the result. final was worth it.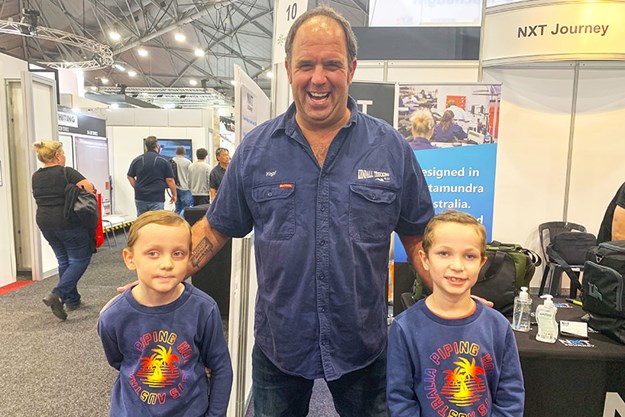 Roger (left) and his twin brother Arthur met Yogi from Outback Truckers at the Brisbane Truck Show 2021. Photo provided
"I think he'll definitely be a truck driver when he grows up," says Rachael. This is good news for the trucking industry, which is already suffering from a shortage of truckers.
After showing Roger a Scania S730 V8 scale model (thanks Scania!) And handing over some Owner Pilot Hats off to him and Arthur, I left as the family prepared to go home.
It was a pleasure to meet the lovely Roger and the family. He's a one-of-a-kind budding trucker.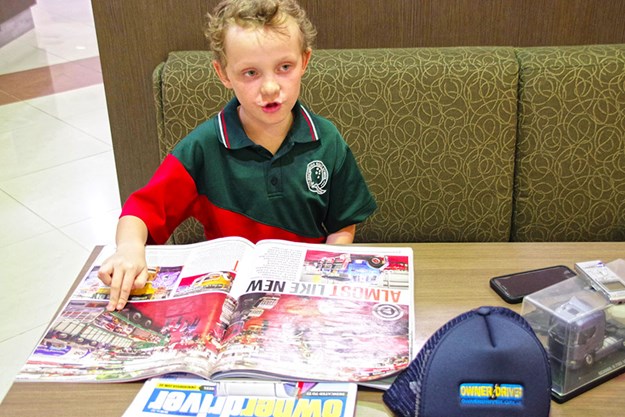 Roger flips through the pages of Owner Pilot magazine. Photo by Greg Bush
Subscribe to our newsletter
Sign up to receive the Owner Driver's email newsletter, digital magazine and other offers that we choose to share with you straight to your inbox
You can also follow our updates by liking us on Facebook.

Trucks for hire | Forklifts for rent | Cranes for hire | Generators for rent | Transportable buildings for rent